Publications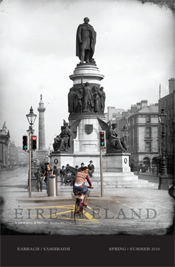 Éire-Ireland
The internationally acclaimed interdisciplinary journal of the Irish American Cultural Institute, Éire-Ireland is the leading forum in the flourishing field of Irish Studies. Since 1966, Éire-Ireland has published a wide range of imaginative work and scholarly articles from all areas of the arts, humanities, and social sciences relating to Ireland and Irish America.

SUBSCRIPTIONS: The 2010 institutional subscription rate for Éire-Ireland is $100, plus shipping and handling ($5 within the US and $20 for international destinations). A one-year subscription includes two double issues. Please note: The IACI does not offer refunds on subscriptions. Please email Eire-Ireland with any questions.
To view Index Issue - Volumes I-XXXIV, click here. To order back issues, click here.

SUBMISSIONS: Éire-Ireland submissions should be prepared/sent as follows:

Literature & Arts Submissions: MLA Style Manual, Click here to e-mail submissions
History & Social Sciences Submissions: Chicago Manual of Style, Click here to e-mail submissions
NOTE: Please include physical mailing address and biographical notes when submitting.
ADVERTISING: This distinguished journal is circulated to individual IACI members, institutions and libraries worldwide. Your advertisement and message would reach both the academic market and a wide general audience with a keen interest in Irish Studies. You have the opportunity to continue to be part of this prosperous endeavor by placing your ad in Éire-Ireland today. Click here for more information.
Monthly E-News

This informative e-newsletter offers members insights into Irish culture, history, and the latest happenings at the IACI. Besides providing updates on IACI programming, this publication offers feature articles, educational information, book reviews, and a wealth of other information. It's Irish American culture, delivered straight to your e-mail inbox! Click here to learn more.

Submissions: We are seeking contributions including: recipes, material for children/teen section, listings of local events, book/play/music reviews, useful websites, and short stories. The E-News is distributed to IACI members and donors. Click here to e-mail submissions. Should you wish to be added to our E-News list, please click here. Please be sure to include your name and mailing address.